Hybrid Logistics
Dedicated Fleet & Freight Brokerage Solutions
Since 2008, our customers have been the driving force. Our commitment to superior service and on-time delivery is at the foundation of our reputation.
We operate an asset based dedicated fleet that consists of over 300 tractors, 210 reefer units, 500 53' Dry Vans and 25 specialty trailers. With an extensive network of 15,000 carriers in USA & Canada we have your transportation needs covered no matter the size!

Our team is available 24/7/365 to help support your commitments. As your partner, we will work closely with you to achieve your business goals no matter how challenging. From store deliveries to last minute load coverage, expedited service and special projects, Kam-Way Transportation is your go-to provider.
Companies We Ship With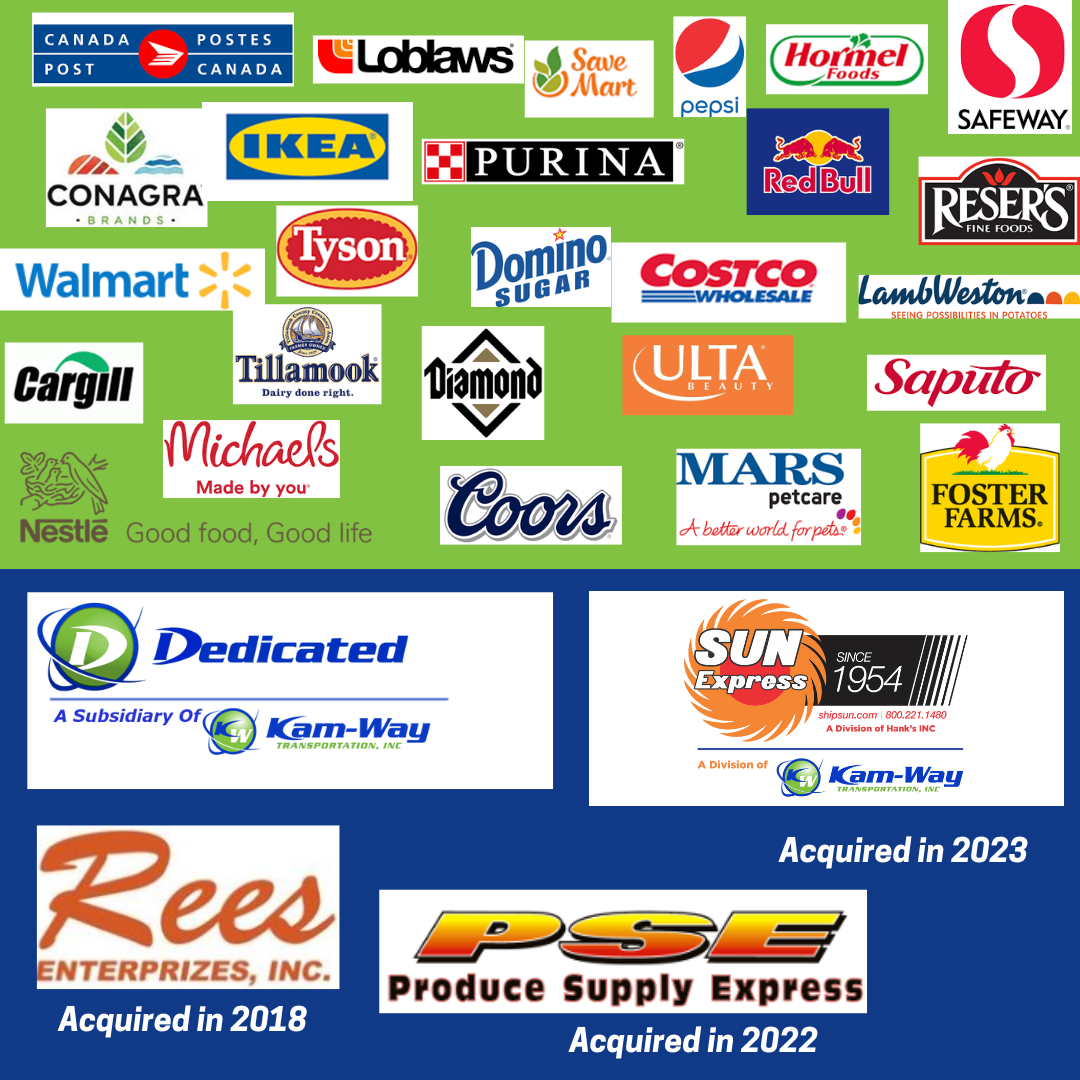 Our Family of Companies





Sustainability
Our commitment to sustainability goes beyond what we feel is our duty, responsibility, and resolve to operate an environmentally-conscious business. In fact, we realize the benefits that maintaining a sustainable culture brings to you – our valued customer.

Innovation
Innovation is one of our core values. Through the exploration and application of new technologies, we are on the forefront of automation and business intelligence.

Energy-Efficient
Our team stays on top of the latest advances in the transportation industry to bring our customers the best products, practices, and technologies. This includes investing in and utilizing the most energy-efficient equipment and fleets.

Route-Efficient
We offer both a brokerage and a truck line service—which means we can provide you with the most efficient route and mode of transport. We have relay points setup strategically throughout Washington, Oregon, California, Nevada, and Arizona—allowing easy access for delivery between the USA, Mexico, and Canada.

Social Responsibility
We are deeply committed to giving back to our community. We have partnered with the Washington State Patrol as part of their Homeward Bound Program. Founded by and the vision of fallen Trooper Renee Padgett in 2006, this program includes 10 trailers featuring missing children posters with age progression in an attempt to gain exposure to their cases.

Learn More

Join the team! Make a difference.